Thursday, almost two weeks ago, I had to say goodbye to my precius friend
and dog ,Cleopatra.
I feel lucky to have had her for 14 years.
She was a really good dog and her limitations were only made by me.
I will miss her so much and it really hurt to have to make the decision
to put her down.
But I didn't want her to be in anymore pain and go through
treatments just so I could get a few more weeks with her , maybe months.
It would be very selfish and I loved her too much to do that.
So I had to make the decision a couple of weeks ago to put her down.
It was a very wierd feeling knowing that I was just about to let
somebody "kill" my dog.
I know that sounds brutal but that's how it felt at the time.
I was after all Cleo's mummy...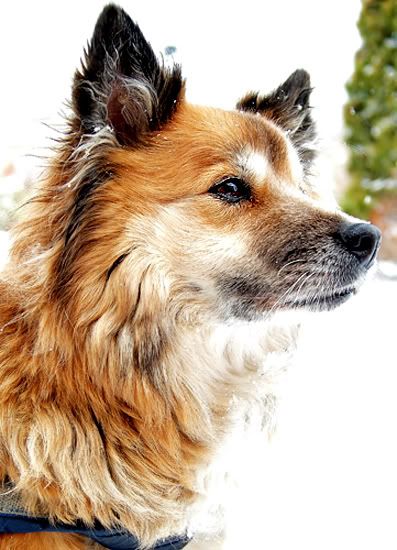 After she got her first injection that would make her go to sleep she
was just stood there looking at me and probably wondering why
I was crying and cuddling her like never before..
So she got a bit closer and licked away my tears .
The next second she couldn't stand up anymore and layed
down in front of me.
She rested her head on my hands and slowly went to sleep there..
After it was all over I really didn't want to leave her there.. all alone ..
on the floor. It really broke my heart to do it..
But I have to remind myself that I did it out of love for a faithful friend.
She gave me 14 years of friendship so I think I owed it to her
to let her go peacefully when the time was right before she got really
ill and in alot of pain
And I'm glad that I'm the last person she was with, along with my husband.